MEXICAN OREGANO BRINGS BOLD FLAVOR

---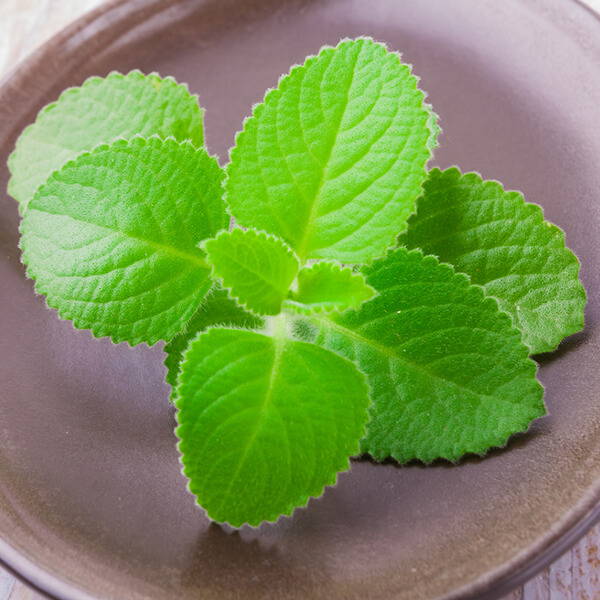 Mexican Oregano, Lippia graveolens gives South-of-the-Border dishes subtle hints of citrus that are a compliment to spicy chilis used in South American and Tex-Mex cuisines. It's frequently used in mole, beans, meats and many tomato-based sauces. This type of oregano became more popular in North America in the 70's and 80's with a rise in the popularity of Mexican food. Mexican oregano has a pungent oregano flavor with hints of mild licorice and belongs to the verbena family.
You may be more familiar with Greek oregano, Origanum vulgare. This type comes from the mint family. When paired with garlic and tomato is found in many Italian dishes. Combine it with lemon and olive oil with fish lamb or seafood and you have the base for many Greek cuisines. A lesser-known type, Cuban oregano, is also part of the mint family. It's a hearty plant, almost like a succulent, that has an oregano/thyme flavor and is used in Cuban, Indian and Philippine fare.
Try High Quality Organic Express non-GMO organic Mexican Oregano and enjoy free shipping on orders over $25.
Our recipe is enchiladas with mole from Oaxaca, Mexico, known as the Land of Seven Moles. The dish is a labor of love that is delicious and a lot of fun to make. Mole generally contains a fruit, chili pepper, nut and spices like black pepper, cinnamon, cumin and Mexican Chocolate. The Mexican oregano brings out the chili and pepper, while the chocolate is enhanced with the nuts, seeds, salt and cinnamon. It's a complicated and balanced sauce that you'll love. Watch the video by Rick Bayless for some great tips on making the mole in this recipe.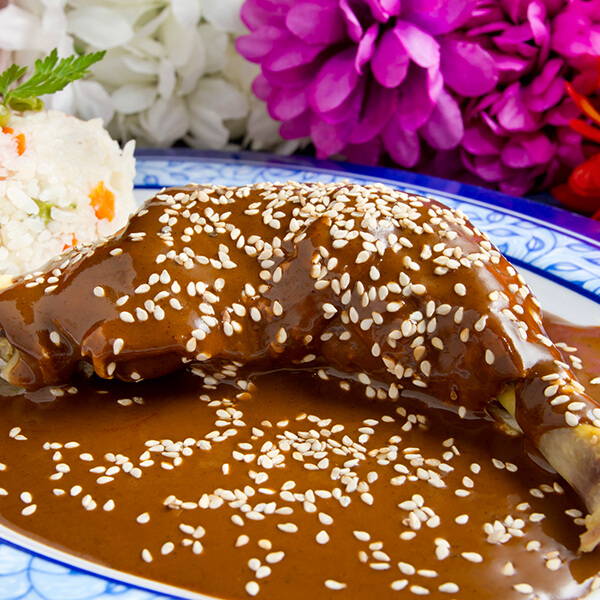 Recipe: Mole Coloradito Enchiladas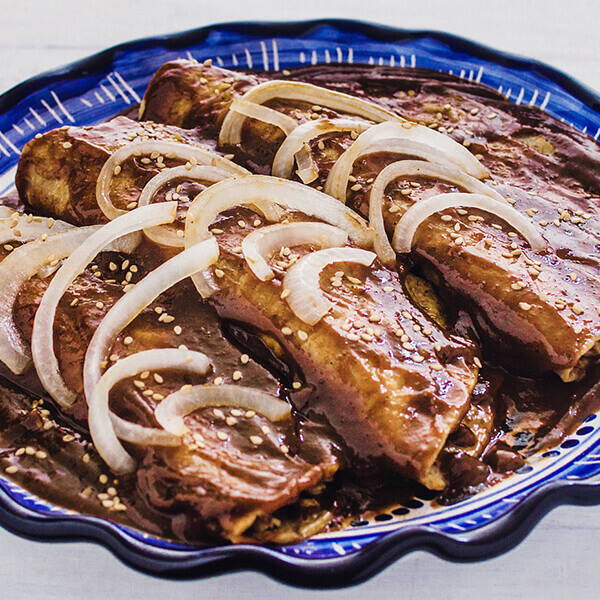 Ingredients
8 ounces (about 16) dried ancho chiles, stemmed, seeded and torn into large flat pieces
1 pound ripe fresh tomatoes (4 medium round tomatoes or 6 medium plum tomatoes)
1 large onion, cut into 1/8" slices (divided use)
4 garlic cloves, unpeeled
1/4 cup vegetable oil (divided use)
1/2 cup sesame seeds
1 teaspoon Mexican oregano
1/8teaspoon cloves, preferably freshly ground
1/4teaspoon black pepper, preferably freshly ground
1 1/2teaspoons ground cinnamon
8 whole blanched almonds
3 tablespoons breadcrumbs
2 tablets (6 ounces total) Mexican chocolate, roughly chopped
4 cups chicken broth
Sugar
Salt
18 corn tortillas
1 store-bought rotisserie chicken, meat pulled and shredded (2 cups)
Sprigs from 1 small bunch parsley
Toast and soak the chiles. Set a large (10-inch) skillet over medium heat. When hot, lay a few chil pieces on the hot surface in single layer. Press down with a metal spatula until they change color and become aromatic—about 15 seconds. Flip the chiles and press down, toasting other side. Remove to a bowl. When all are toasted, cover chiles with hot tap water and weight with a plate. Let soak until soft, about 30 minutes.
Roast the vegetables. Roast the tomatoes on a baking sheet 4 inches below a very hot broiler until blackened on all sides, about 10 minutes. Cool. Return chile-toasting skillet to medium heat. Add three-quarters of the onion slices and all of the garlic. Roast the onion on both sides until soft and blackened in spots, about 8 minutes. Roast the garlic on all sides until soft and blackened in places, about 15 minutes. Cool.
Toast the sesame seeds. Return the onion-roasting skillet to medium heat. Pour in 1 tablespoon of the vegetable oil, then pour in the sesame seeds. Stir continually until the sesame seeds brown, about 2 minutes. Scrape into a large bowl.
Blend the chile puree. Use tongs to transfer chiles to the bowl with sesame seeds, saving the soaking water. Add the oregano, cloves, pepper, cinnamon, raisins and almonds to the chiles and sesame seeds. Mix well, then scoop half of the mixture into a blender. Pour in just enough chile-soaking water to cover. Cover and blend at high speed until very smooth. Set a medium-mesh strainer over another bowl. Pour in the chile puree and press through with a rubber spatula. Discard the chile skins and sesame seed hulls left in the strainer. Blend the remaining mixture with the soaking water. Strain into the same bowl.
Make the tomato puree. When the roasted tomatoes are cool, peel off and discard skins. Put the tomatoes in the blender with all the juices from the skillet. Peel and roughly chop the roasted garlic. Add to the blender along with the roughly chopped onion. Cover and blend at high speed until smooth. Wash and dry the skillet. Set over medium-high heat and add 1 tablespoon of the vegetable oil. When hot, add the tomato puree. Cook—stir almost continually—until the tomato mixture thickens, 10 to 15 minutes.
Cook the mole. Set a large heavy pot (preferably a 6- to 9-quart Dutch oven) over medium to medium-high heat. Add the remaining 2 tablespoons of the vegetable oil. When hot, add the chile puree and stir continuously until the mixture becomes very thick—about 20 minutes. Scrape in the cooked tomato mixture, bread crumbs and chocolate. Add the chicken broth and stir until the chocolate melts. Turn down the heat to medium-low and cook 30 minutes. Taste and season the mole with sugar (usually about 1 tablespoon) and salt (usually about 1 ½ teaspoons). Let the mole cool to room temperature, then blend again until silky smooth if desired.
Assemble the enchiladas. On a baking sheet, lay out the tortillas and spray or brush lightly on both sides with oil; stack them in twos. Slide the tortillas into the oven and bake just long enough to make them soft and pliable about 3 minutes. Remove from the oven and stack them in a single pile; cover with a kitchen towel to keep warm. Holding a tortilla at one edge, dip most of it into the sauce, then lay it on an empty plate. Spoon a heaping 2 tablespoons shredded chicken down the center, roll up and lay on a dinner plate. Repeat with 2 more tortillas for the same plate. Douse the enchiladas with about ¼ cup of the hot sauce, and garnish with the remaining onion slices and parsley sprigs. Repeat for as many plates of enchiladas as you'd like to make. Carry to the table immediately.
---