It's Fall and we have a soup challenge for you!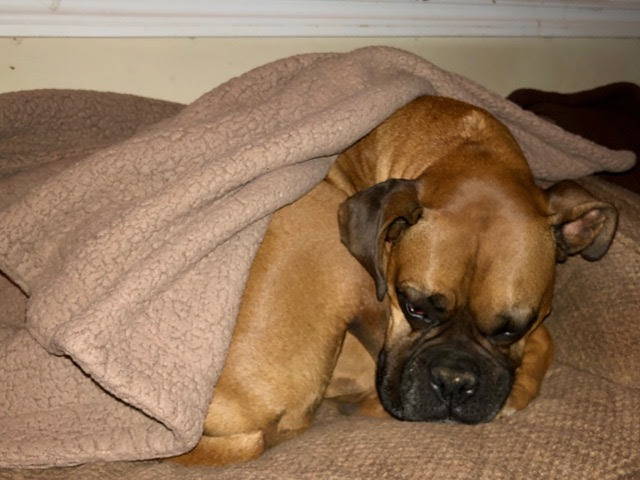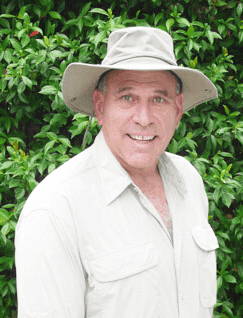 By: Jerry Tenenberg
Founder of High Quality Organics
So how you know that it is Fall? Well, from the picture you can see when your short hair dog needs a blanket… you know it's Fall. When your wife gathers around a tea cup in the morning like a campfire… you know it's Fall, and when soup becomes the favorite meal, you know it's Fall!
Just for fun I looked in the cabinet to see what kind of soups could be made with the blends that we had on hand. We had celery salt which is a great addition to any potato soup. Curry powder? That one is easy, just add it to chicken soup! Lentil soup with Herbs de Provence. Vegetable soup with Italian seasoning; we have a nice assortment of seasonings so we are well-stocked for soup time of year!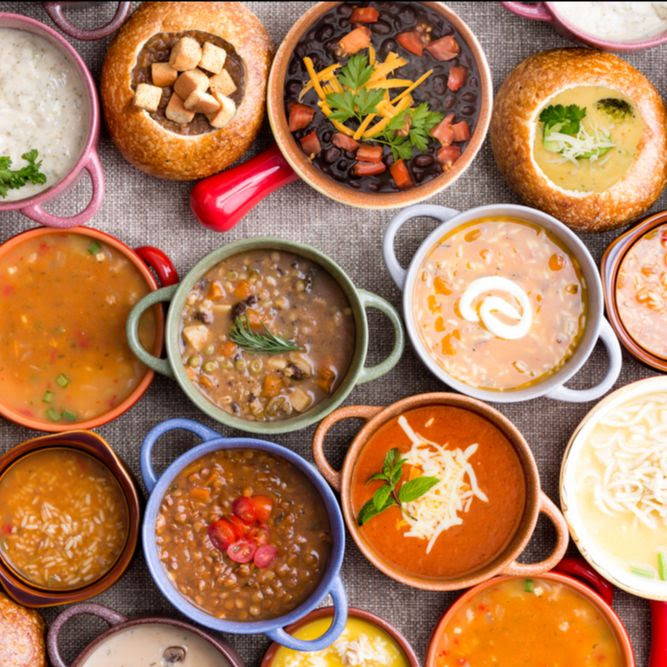 Then I had an idea; I'll name a spice blend and my wife has to create a soup featuring that blend within 30 minutes. Meals in our home kitchen often become a competition of who can be the most creative. I lose most of the time but it's fun. Both of us come from extended families that like to cook and where food was the feature of many gatherings.

Soooo, when I saw the Everything Bagel Blend, I knew that would be an interesting challenge.
Of course, dipping a nice bagel into soup is always a good idea, at least to me! But featuring the Everything Bagel Blend IN the soup AND have it taste great… I thought that was a worthy challenge!
My wife, who was a motorcycle racer as a teenager, gave me "the look" and she was off like one of those cooking competition shows where the contestants sprint to find their ingredients.

Needless to say, she nailed it. Plus she made sure that it was very healthy so there would be no question of how good it really was!
This is a true story and this is her actual recipe and when you taste it you will know what I am up against!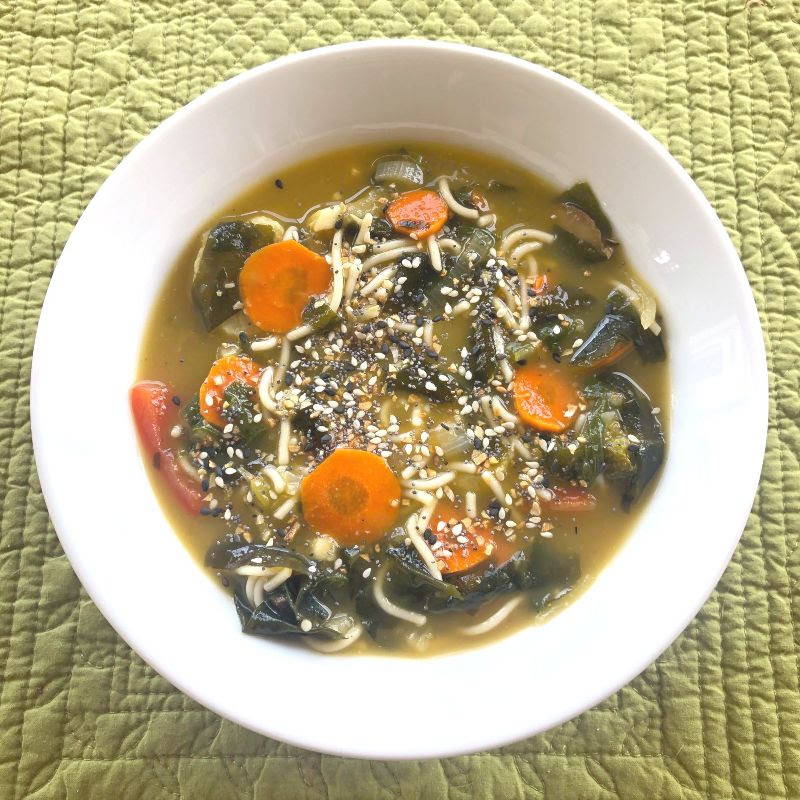 Quick Miso-Veggie Soup for Fall
The garlic and sesame seed in the Everything Bagel Blend add a flavor punch, and the ginger and all the fresh veggies and greens are packed with nutrients and anti-oxidants. The Wakame seaweed is rich in iodine. Miso is a live culture, fermented food with natural probiotics and is made from soybeans. It also contains protein, vitamins B and K and minerals such as manganese and zinc.
Makes 2-4 servings (great to double the recipe and have meals for lunch the next day)
 
Takes about 30 minutes to make.
Ingredients:
32 oz box of your favorite broth (Vegetable or Mushroom is great)
4 oz block of soft-style tofu, cubed small (1/4 to 1/2 inch) or alternate meat or seafood
1- med carrot peeled and sliced into thin "coins"
1- small onion, quartered and thinly sliced OR 2 Green scallions sliced
1- med stalk celery thinly sliced
3- oz crimini or white mushrooms quartered and thinly sliced
1- red bell pepper chopped
2 – tbsp HQOX Everything Bagel Blend
1- tsp HQOX ginger powder
4 to 5- oz of fresh broccoli florets cut bite-sized
4 to 5- oz of fresh cauliflower florets cut bite-sized
1- sm bunch of boy-choy, sliced thin OR ½ - CUP of Chinese Cabbage OR regular Green Cabbage OR Kale - thin slices
2 Tbsp.- Wakame seaweed (ready to use)
1 cake Ramen noodles (about 2 ounces), cook separately and add to soup pot before serving
Add to individual bowls: 1- tsp Miso paste per serving.
Note: Miso has a rich umami flavor and is usually salty, which is why this recipe has no added salt. High heat will kill the live-culture and reduce the benefits of the probiotics so Miso is NOT added to the soup pot, but instead is added to each individual bowl.
Instructions:
Pre-cut all ingredients. Add broth to large pot, simmer on medium heat.
Add carrots, celery, onion and mushrooms, simmer for 5 min.
Add tofu, Everything Bagel Blend and ginger powder, simmer another 5 mins. (Do not boil, lower heat if needed)
Add broccoli, cauliflower, cabbage or greens and seaweed. Simmer on low until cauliflower and broccoli are softened but not overcooked. 5-8 mins.
Cook Ramen noodles separately - Cook the 1 cake separately according to instructions. General instructions: Add ramen cake to pot of boiling water. After 1 minute start separating noodles gently with a fork and reduce heat to low boil. Cook for 3 minutes until noodles are just soft. Quick rinse with water. Strain and rinse then add to soup pot.

Enjoy!
---