HABANEROS ARE HOT TO TROT!

What's three times hotter than jalapeños, 106 times less hot that pepper spray and a favorite pepper of heat-seeking foodies with a hangry hankering for heat? Yep, habaneros, and that's no joke! Once known as the hottest pepper in the world, they are now outpaced in heat by Bhut Jolokia (Ghost Pepper) and the Carolina Reaper, a hybrid pepper created in a South Carolina hothouse to be the world's hottest chili pepper.

You're probably asking "why oh why?" but there's an explanation for the love of the burn—of spicy food.
Paul Rozin, a psychologist and professor from the University of Pennsylvania is an expert on the many determinants of our food choices. He theorizes that those who enjoy the spicy heat have a level of "benign masochism" or simply put, a non-harmful desire for a little pain. That may be true, but the heat has its place in flavor balance as well. In culinary parlance, spiciness brings balance and depth of flavor. It acts as a great counterpoint to sweetness and compliments acidic or sour flavors. The habanero has a fruity, acidic, fiery heat flavor profile.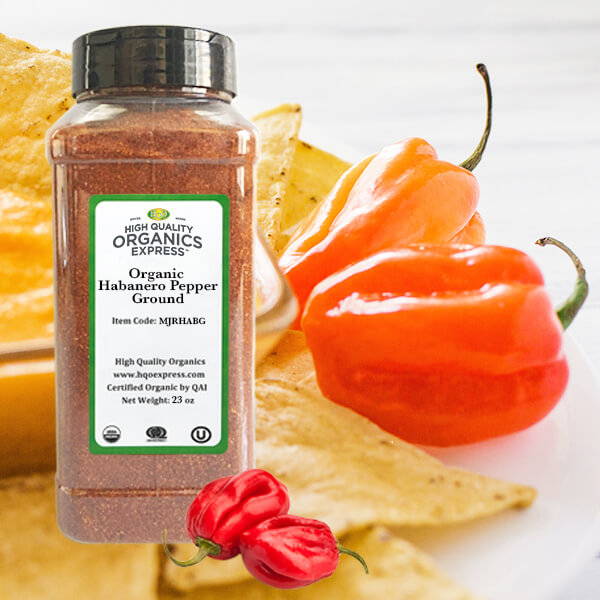 This little pepper dates back as far as 8,500 years is a small, typically orange or red pod. The habanero chili comes from the Amazon and made its way throughout the world thanks to Spanish colonists. Taxonomists mistakenly classified it as originating in China so was named Capsicum chinense.
These peppers are grown in many parts of South America and the United States and are widely used in the cuisine of the Yucatan Peninsula culture in Mexico. Habaneros are also popular in West Indian cooking.
Tip: 1 teaspoon ground habanero pepper = one habanero pod

The all-American bar food and sports fare: chicken wings. They come in many flavors like Buffalo, lemon and barbecue. They're almost always are accompanied with ranch or blue cheese and celery and carrot sticks. But look out, this recipe is HOT and will be loved by the chili-heads in your crowd.
Honey-Habanero Chicken Wings Recipe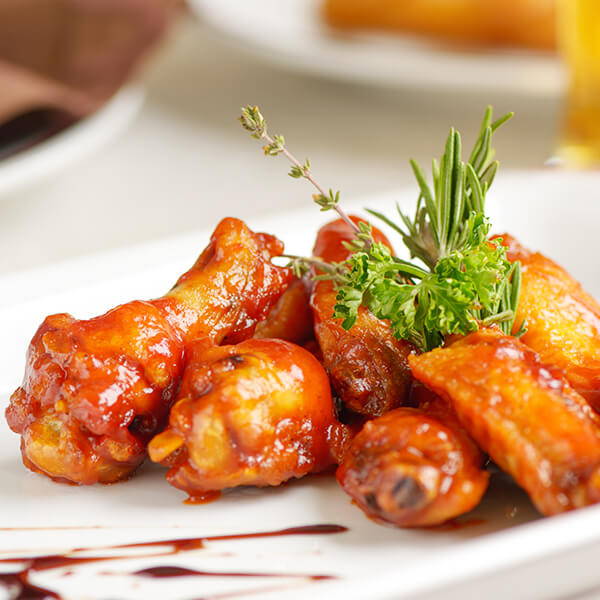 Ingredients
Habanero–Honey Sauce:
1/2 cup lime juice
1/4 cup white wine vinegar
3 - 5 teaspoons of ground habanero pepper (adjust to desired heat)
1 teaspoon salt
2 sticks butter
1/2 cup honey
Tempura Batter:
1 cup all-purpose flour
1 cup cornstarch
1 tablespoon baking powder
1 tablespoon salt
2 cups water
1 cup ice
Seasoned Flour:
3 cups all-purpose flour
2 tablespoons salt
2 tablespoons paprika
Wings:
Peanut or canola oil for frying
2 pounds whole chicken wings, drumettes and wings separated and tips removed
Preparation
To make the habanero–honey sauce, combine the lime juice, vinegar, habanero peppers, and salt in a blender and purée until smooth. Strain through a sieve and discard the solids. Set aside. Heat a large saucepan over medium heat and add the butter. Cook until the butter turns golden brown and develops a nutty aroma, about 8 minutes. Remove from the heat and scrape into a medium bowl. Whisk in the honey and a tablespoon of the habanero vinegar. Taste and add a little more vinegar if desired. Set aside until needed. Discard the vinegar or save for another use.
To make the tempura batter, whisk together the flour, cornstarch, baking powder, and salt in a large bowl. Add the water and ice; mix well to smooth out any lumps. Set aside.
To make the seasoned flour, whisk together all of the ingredients in a large bowl. Set aside.
Add about 6 inches of frying oil to a deep pot. Heat the oil until it reaches 350°F.
While the oil is heating up, prepare the wings for frying: dip one wing in tempura batter. Shake off any excess batter, then coat in seasoned flour. Place the wing on a baking sheet. Repeat with the remaining wings.
Working in batches, fry the wings until golden brown, about 4 to 5 minutes. (Make sure the temperature of the oil returns to 350°F before frying a new batch, or the wings will be greasy.) Transfer the fried wings to a paper towel–lined plate or baking sheet.
If needed, whisk the habanero–honey sauce again to make sure everything is well combined. Toss the wings in about a cup of the sauce, or serve the sauce on the side for dipping.
---