Growing Sage - Jerry's Story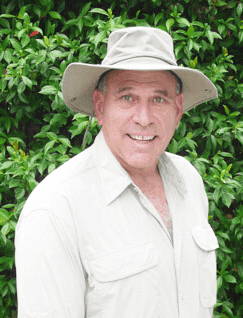 By: Jerry Tenenberg
Founder of High Quality Organics
Please indulge my brief departure from the storyline that we have been following until now. This is a great time of year where I live in the Southwest, and especially this year with the heavy rains. My home is in the foothills of the southern Sierra. Several years ago when we moved to this area we became fascinated with the surrounding hills, trails and native plant populations. One group of plants in particular are the "salvia" varieties, which we all know as sage.
Black Sage, Spring Growth
Black sage (Salvia mellifera) and white sage (Salvia apiana) are abundant in the Southwest. I found the black sage to be excellent for cooking, teas, and most importantly, a variety that I could successfully transplant from the wild. Black sage is a highly aromatic shrub that grows from 3-6 feet in height. It's also perfect as a landscape plant around the southwest home because it's beautiful, aromatic and very drought resistant when established. The Native American people of the extreme southwestern United States and northwest Mexico were originally known as the Kumeyaay, also known as Kumiai or Diegueño, in Spanish. The Kumeyaay called black sage "ha'anya yul." As a remedy, they ground black sage seeds, mixed them with water and made a mush to be eaten. Leaves and stems were used for various medicinal purposes as well.
Sage is from the herb family, Salvia officinalis. The fresh leaves are grey-white to deep green, and dry to a highly aromatic off-white to silvery gray in color. Sage can be cut, usually 1-6mm in size or "rubbed" when course ground and screened to a cotton-like finish.
Traditionally, the eastern Mediterranean has been the principal source of the Sage used for spice. The "high quality" moniker, historically has been granted to sage coming from the Dalmatian Coast, which today is known as Croatia.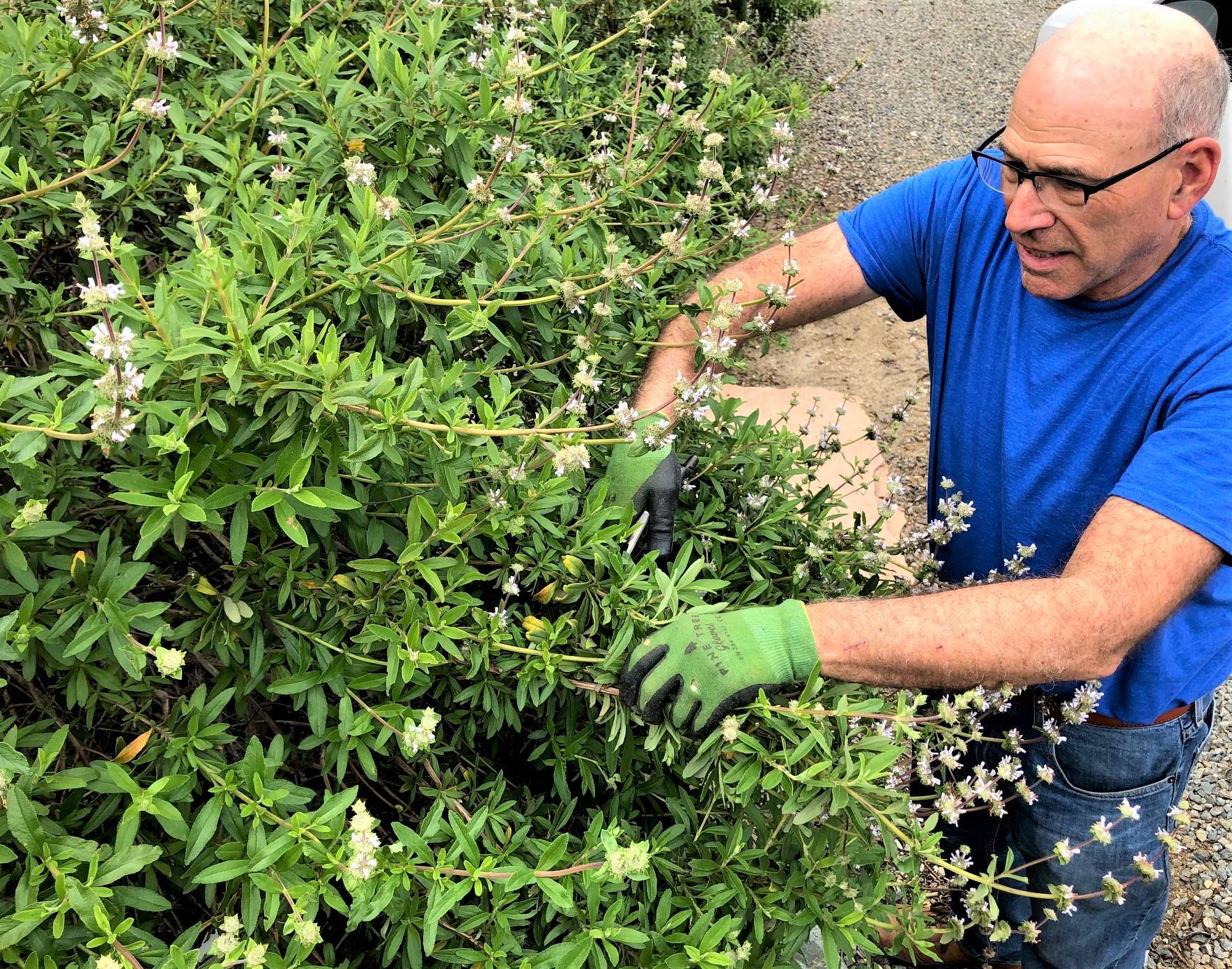 Spring Harvest After the Rains
The preference is due to the variety and essential oil components, but even more so due to the longevity of that area as the principle supplier of this product. Wild crafted salvia develops a dense population of a mono culture, which in this case is not so bad, as it affords high yields when harvesting and a focus for maintenance and development. The plants themselves are relatively delicate, so a focus is beneficial.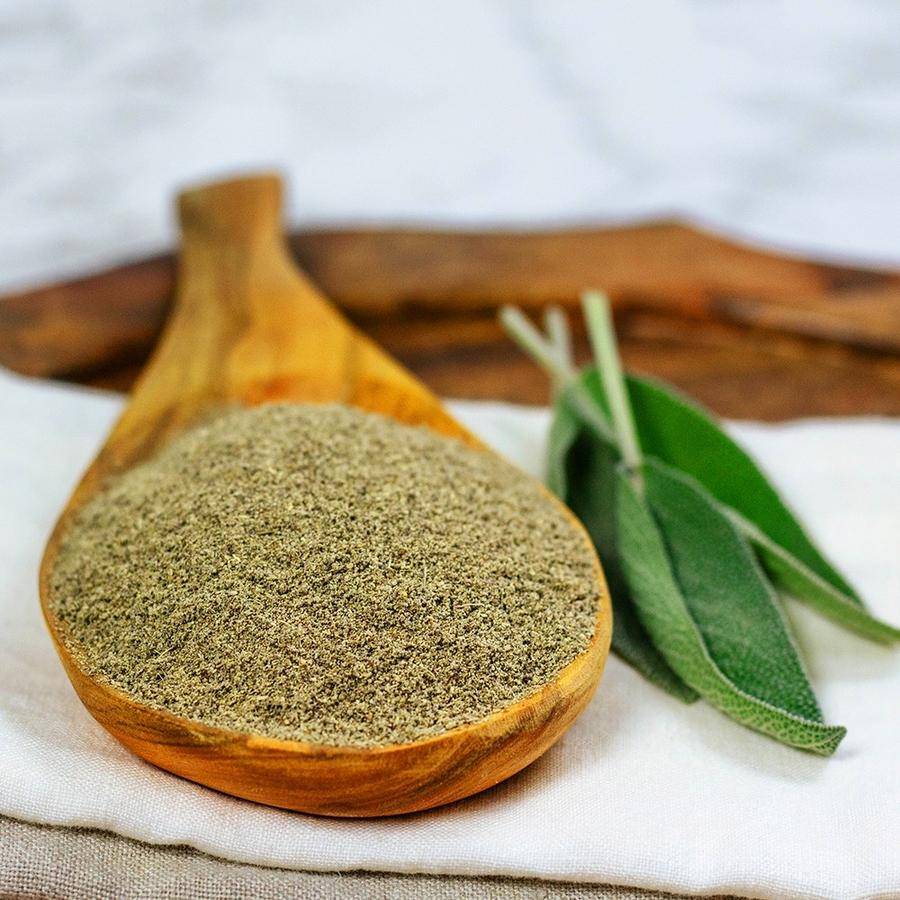 Historically, Sage was a highly regarded product for the Dutch traders and valued globally for a myriad of applications. Sage was used to treat fevers, seizures and to cleanse toxins from the liver. The term "sage" is granted to a wise man, perhaps due to the plants reputation of providing memory benefits. The medicinal benefits are not surprising as sage has 49 essential components, with major essential oils such as camphor. Today studies have shown that oregano is high in antioxidant and antimicrobial activity. Although not as high a level of antioxidant activity as oregano, sage stands out with very good to moderate inhibition of antimicrobial activity.
My travels for sage have taken me extensively through the eastern Mediterranean and Turkey. Over the years we have been cultivating more and more selected plants from the wild and indigenous areas. But both the wild product and the cultivated product depend on rainfall, so we must have a diversified group of projects to assure consistency and reliability.
Fortunately, (especially in the winter!), the deep southwestern United States is very similar to the Mediterranean climate. This enables me to utilize my experience with Mediterranean sage and grow it at home. My "crop" of sage is about five years old and well established. I watch for the peak time after the rains, which were abundant this year, and harvest the lush green tops. This allows for a second growth for the plants to look beautiful and weather the summer heat.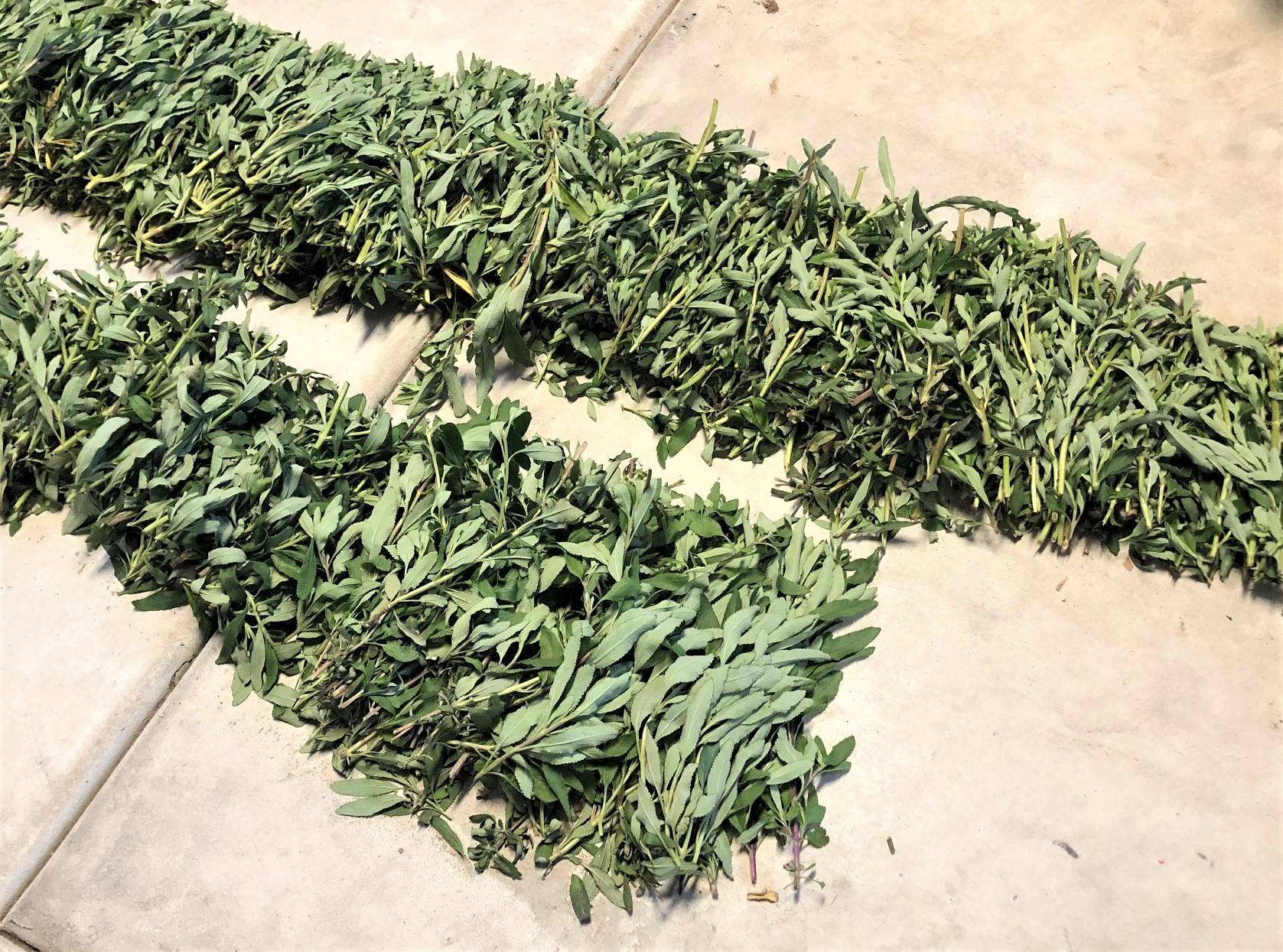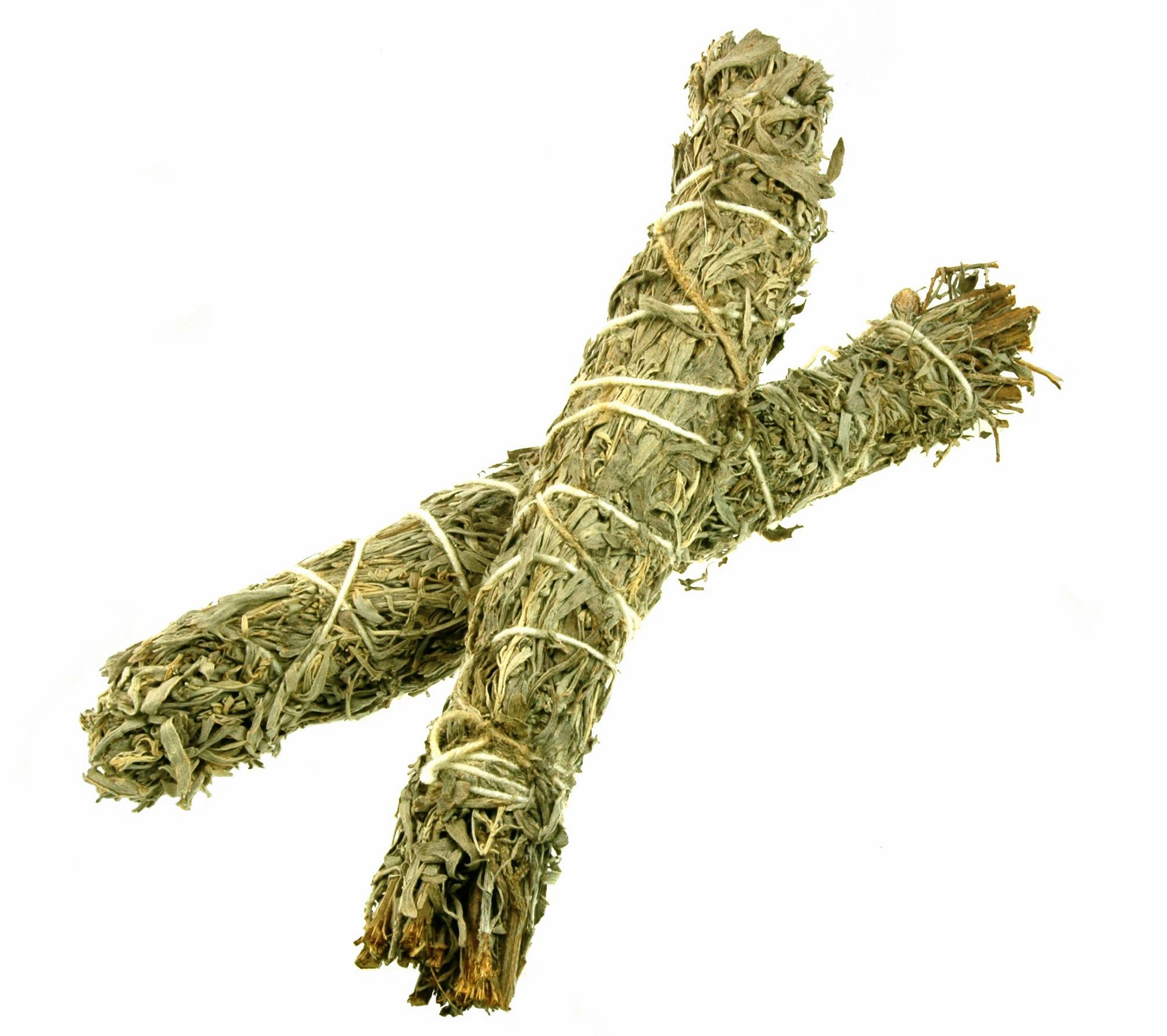 The perfect time to cut the sage is after it has set some flower, which will increase the oils in the plant. Then the tops are cut and trimmed to a consistent length of about 10 to 12 inches. I dry the sage on a concrete slab, as I do with other herbs as well. This drying method is used around the world. Coffee and peppercorns are dried in the same manner. I'll take a bit of the dried sage and sift it for culinary and tea use. But most of the sage I'll band together in bunches for ceremonial smudge sticks. This is a fun project as the sage sticks are used for charity purposes as gifts.
What a powerful and versatile plant sage is! When sage is sautéed in oil or butter, the flavors are released. It's fantastic in eggs, chicken, vegetables and wherever cheese is used. Sage tea is very soothing and traditionally has many remedial uses. Sage smudge sticks or bundles were used in ceremonies by indigenous people of the Americas for spiritual cleansing or blessing.
Recipe -
Caramelized Onion and Mushroom Turkey Burger
Serves 4
Ingredients:
4

 

small yellow onions

 

peeled and sliced into half-moons

2-3

 

tbsp

 

olive oil

1

 

tbsp

 

balsamic vinegar

1

 

lb

 

cremini (baby bella) mushrooms

 

cleaned and quartered

2

 

tsp

 

minced garlic

1

 

lb

 

ground turkey

1

 

tsp

 

Dijon mustard

1/2

 

cup

 

crumbled feta or blue cheese

Iceberg lettuce

 

for "lettuce bun"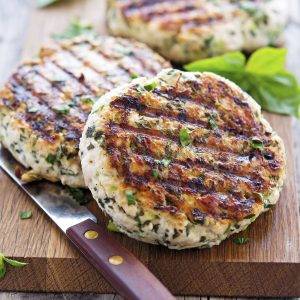 Start by caramelizing the onions, as this step can take up to half an hour. Heat 1 Tbs. olive oil in a large skillet over medium heat. Add onions, stir to coat with oil, and season with salt and pepper. Spread onions out evenly across the pan and let cook, stirring occasionally, until onions are soft and caramelized, about 25-30 minutes. Don't stir the onions too often so they can brown, but don't leave them alone long enough to burn or stick to the pan. You may need to reduce the heat or add a splash of water to deglaze the pan a few times to prevent onions from burning. Once they're done, set aside in a small bowl. This step can be done ahead of time and onions can be warmed up in the microwave before topping burger.

Prepare sautéed mushrooms. Stir in 1 tbs olive oil, balsamic vinegar, garlic, oregano, and mushrooms. Cook for 20 to 30 minutes, or until tender.

Prepare turkey burgers by gently mixing ground turkey, Dijon mustard, thyme, sage, and a sprinkle of salt and pepper in a bowl. Form into four patties, being careful not to overwork the mixture.

Heat a large skillet over medium-high heat and spray with cooking spray or drizzle with oil. Cook turkey burgers until cooked through (center no longer pink, juices run clear, internal temperature of 165°F), about 5 minutes per side. Add crumbled feta cheese to each burger about 1-2 minutes before it's done cooking so the cheese can melt slightly.

Top with caramelized onion and Mushrooms.

Serve in a lettuce bun or over a salad.
---