PEPPER; WHOLE, CRACKED, GROUND, ONE USEFUL SEASONING

Once regarded as a treasure worth its weight in gold, pepper has become a daily culinary companion in all types of cuisine. The small, round berries that grows on vines, are soaked and dried into what are familiar peppercorns. The peppercorns can be used whole, ground or cracked depending on how much intensity of flavor and pepper texture is needed. Pepper packs a punch that imparts a mild amount of heat and complexity to savory and sweet dishes.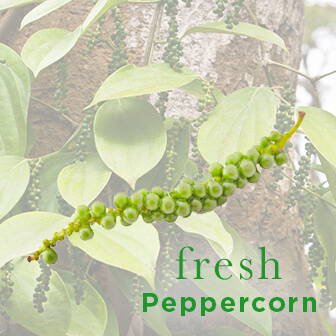 The valuable berry we know today as pepper, has been around since as early as 1,000 BC and was originally cultivated in Southwest India. When Christopher Columbus returned to Spain, he brought a shipload of what he thought was the valuable spice, only to find he returned with peppers, not the beloved seasoning on your kitchen table.
Referred to as "seasoning" when paired with salt, pepper was not as common as salt in older times, but the two have come to form a culinary partnership and occupy charming shakers, side-by-side on just about every American table in both restaurants and home alike. Some of these shakers have become vintage collectibles and are very traditional keepsakes.
Pepper is super versatile and can be added to most dishes. It gets the familiar pungent flavor from a chemical compound called piperine that has also been known to have several health benefits. Piperine is a naturally occurring alkaloid that gives pepper pungency. The amount of piperine varies in crops and can be influenced by growing conditions like soil, climate and place of origin.
Peppercorns come in a few varieties. Green peppercorns are soft, or dried peppercorns that usually come in a brine and are good for meat dishes and for making mustard. White peppercorns are black peppercorns without the skins. They are great for lighter-colored foods to keep the continuity of the dishes color and are also hotter and less aromatic. Pink peppercorns aren't peppercorns at all. They come from a South American shrub and have fruity, floral notes balanced with a peppery bite.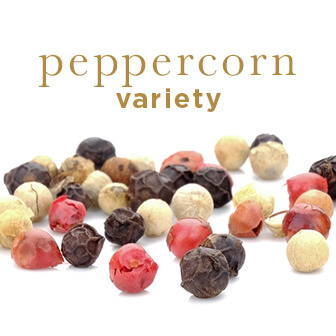 Depending on your dish, check out these whole uses or grinds:
Ground: Most common, ground pepper is used at the table and to season dishes
Cracked/Coarse: Great for when the pepper is used as a coating like for steak au poivre or spice rubs
Whole: Use whole peppercorns in meat and Asian dishes but be sure to remove the peppercorn after cooking. Also, use in a bouquet garni.
High Quality Organics Express is the largest North American supplier of wholesale bulk non-GMO certified pepper. Our Organic pepper is specifically chosen for flavor, color and pungency.
Recipe - Plum Tarts with Honey and Black Pepper

1 sheet frozen puff pastry (one 14-ounce package), thawed according to package directions
1 pound red plums, apricots, or peaches, pitted, cut into 1/2" wedges
1/4 cup sugar
Freshly ground black pepper
1 tablespoon honey
Flaky sea salt (such as Maldon)
Preheat oven to 425°. Cut pastry into six 4" squares, place on a parchment-lined baking sheet, and prick all over with a fork. Top with plums, leaving a 1/2" border. Sprinkle with sugar; season with a few grinds of pepper.
Bake tarts, rotating the pan halfway through until edges of pastry are puffed and golden brown, 25-30 minutes. Drizzle with honey and sprinkle with salt just before serving.
Do ahead: Tarts can be baked 4 hours ahead. Keep at room temperature.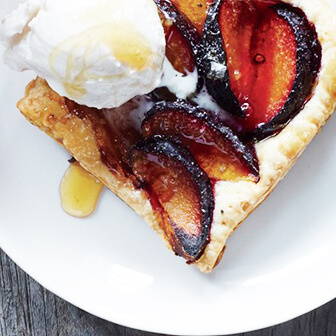 Have you ever had a pepper tart?
Recipe - Black Pepper Ice Cream
¾ cup heavy cream
1 cup whole milk
5 tablespoons sugar
1 ½ teaspoons black peppercorns, freshly ground
3 egg yolks
In a medium-size saucepan, combine the cream, milk, sugar and pepper. Bring to a boil. Meanwhile, whisk the yolks in a mixing bowl until light. Whisking constantly and rapidly, gradually pour the boiling cream mixture into the yolks.
Place over a bowl of ice to cool. Cover and refrigerate until cold. Freeze in an ice cream machine according to manufacturer's instructions.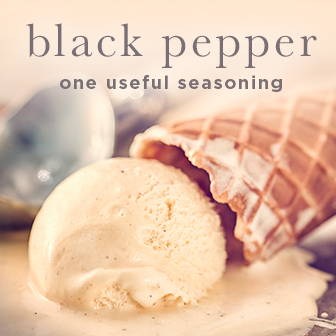 Would you try black pepper ice cream?
HTTPS://ONLINELIBRARY.WILEY.COM/DOI/FULL/10.1111/1541-4337.12246
---