CINNAMON; THE QUEEN OF HOLIDAY SPICES

There probably isn't another aroma that evokes a feeling of home, grandma, the holidays, and family like that of cinnamon. And it's for good reason. Cinnamon is a warm, spicy, sweet top-note scent that when paired with brightness like acidity and exciting sweetness it has the makings of perfect flavor balance. That's why dishes like apple pie, pumpkin pie and apple cider taste, well, superb. Apples are the perfect counterpoint for cinnamon because of the contrast in flavor and in the fall and winter seasons they are at their perfect ripening point. More about apples and cinnamon a bit later.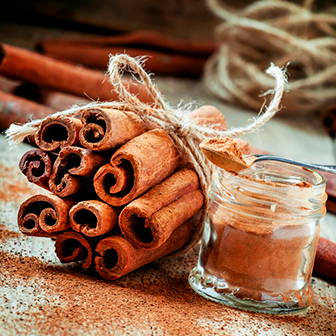 Our cinnamon is an ancient spice that comes from inner tree bark from the genus Cinnamomum cassia. It is rolled into thin quills and used in its whole form or ground. Native to Southern China and Eastern and Southern Asia, cinnamon has been enjoyed for thousands of years dating back to 2000 BC Egypt. In those times, cinnamon was so expensive that it was reserved for the richest and was used as currency. According to Pliny, a Roman pound of cinnamon cost up to 300 denarii, the wages of ten months' labor! Ceylon is another variety of cinnamon that is native to Sri Lanka.
Cinnamon's flavor profile is sweet, woody, hot and spicy. High Quality Organics Express brings you non-GMO, certified organic Cinnamon.Our Organic Cinnamon is a Cassia "A" specifically chosen for flavor, color and meeting minimum volatile oil specifications. Cinnamon is one of a quintet of intoxicating holiday spices that evokes warm memories that give you a hankering for festive treats like cakes, pies, cookies, gingerbread, chai, ciders and hot chocolate. Cinnamon, nutmeg, allspice, clove and ginger intermingle to entice your olfactory senses that recall pleasant memories of family, friends and the holiday season.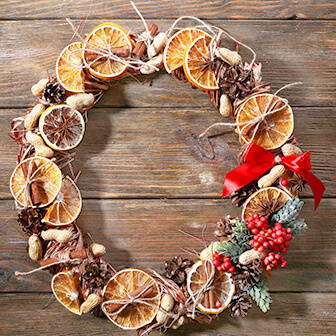 Fragrant holiday crafts like ornaments, wreaths and potpourri are made with cinnamon sticks and make great gifts for loved ones. The freshness and bright pop of cinnamon also make it a star in chewing gum and candy. Cinnamon freshens the breath and makes for a bold-flavored toothpick (try making them). Used as an essential oil, cinnamon is fresh and uplifting and can be diffused with other oils like orange, clove and cedar wood for a warm and cozy aroma.
When's the best time to stock up for your holiday baking?
Recipe - Blue Ribbon Apple Pie

Every Thanksgiving and holiday table just wouldn't be the same without homemade pies. And this Blue Ribbon Apple Pie made with organic, non-GMO cinnamon and nutmeg may have been a hit at the County Fair this summer, but it will surely impress on your holiday table this season.
 *Tip: Use tart apple varieties like Granny Smith, Honeycrisp, Golden Delicious, Jazz, Jonagold or Pink Lady.
Crust
2 1/2 cups all-purpose flour
1 teaspoon sugar
1/2 teaspoon salt
1/2 teaspoon ground cinnamon
1/4 teaspoon ground nutmeg
3/4 cup cold butter, cut into chunks
6 to 9 tablespoons cold water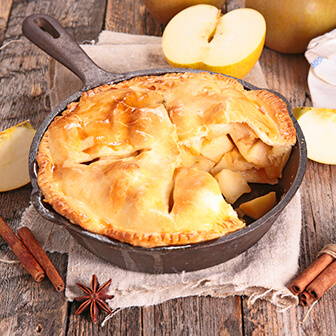 Filling
1/2 cup sugar
1/4 cup firmly packed brown sugar
1/4 cup all-purpose flour
1/2 teaspoon ground cinnamon
1/2 teaspoon ground nutmeg
* 6 medium (6 cups) tart cooking apples, peeled, cored, sliced 1/4-inch
1 tablespoon butter
1 teaspoon sugar
Preparation
Step 1
Combine 2 1/2 cups flour, 1 teaspoon sugar, salt, 1/2 teaspoon cinnamon and 1/4 teaspoon nutmeg in a bowl. Cut in 3/4 cup butter with pastry blender or fork until mixture resembles coarse crumbs. Stir in enough water with fork just until flour is moistened.
Step 2
Divide dough in half; shape each half into a ball. Flatten slightly. Wrap each ball of dough in plastic food wrap; refrigerate 30 minutes.
Step 3
Heat oven to 400°F.
Step 4
Roll out one ball of dough on a lightly floured surface into 12-inch circle. Fold into quarters. Place dough into ungreased 9-inch pie plate; unfold dough, pressing firmly against bottom and sides. Trim crust to 1/2 inch from edge of pie plate; set aside.
Step 5
Combine all filling ingredients except apples, 1 tablespoon butter and 1 teaspoon sugar in a bowl. Add apples; toss lightly to coat. Spoon apple mixture into prepared crust.
Step 6
Roll the remaining ball of dough into 12-inch circle. Fold into quarters. Place dough over filling; unfold. Trim, seal and crimp or flute edge. Cut 5 or 6 large slits in crust. Brush with melted 1 tablespoon butter; sprinkle with 1 teaspoon sugar. Cover edge of crust with 2-inch strip aluminum foil.
Step 7
Bake 35 minutes; remove foil. Continue baking 10-20 minutes or until crust is lightly browned and juice begins to bubble through slits in crust. Cool pie 30 minutes; serve warm. Store refrigerated.
---