IN THE THICK OF IT WITH ARROWROOT

In 1971 a groundbreaking book, "Diet for a Small Planet," by Frances Moore Lappe' introduced a new concept of environmental vegetarianism. Essentially, the practice of vegetarianism stemmed from several principles of health-related and ethical practices in the animal-based food industry and the animal product industry. At that time, vegetarianism in the US gained popularity along with a concern for healthier eating and cooking with a movement toward plant-based and less-processed foods.
Fast forward almost 50 years, and healthy, whole-food eating is more than just a fad — it's at the root of healthy cooking and baking that is enhanced with organic, chemical-free, whole ingredients.
Versatile, organic arrowroot is a natural thickener and often used as a substitute for cornstarch to avoid genetically modified organisms and pesticides. It's a great alternative for those with corn allergies or are on a gluten-free diet. Arrowroot is used for desserts, baked goods, fruit gels and sauces and is less processed than other thickeners. When using arrowroot it's best to make a slurry and if used as a cornstarch replacement, try one-third to half the amount of cornstarch, and add more if needed.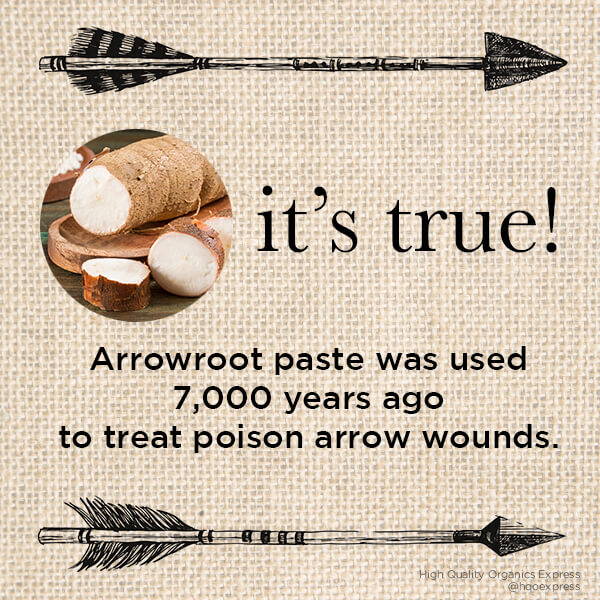 The use of Arrowroot goes back at least 7,000 years and was a staple of the Caribbean Arawak people. They used the paste of arrowroot to treat poison arrow wounds which gives the thickener its name. Early on, arrowroot was used in paper making because of its fine grain size.
The starch of arrowroot comes from the rootstock of several tropical plants; traditionally Maranta aundinacea, also Florida arrowroot, tapioca from cassava and Polynesian and Japanese arrowroot.
This gnocchi recipe is a perfect fall meal accented with a savory sage walnut pesto to compliment the sweetness of the dish. It will satisfy everyone at your table because it's gluten-free, grain-free and paleo friendly. A few handy culinary tools are suggested for this recipe — a potato ricer will make the sweet potatoes smooth and fluffy. Also, to make the ridges on the gnocchi it's nice to have a gnocchi paddle. You can also use the back of a fork to make the ridge pattern on the pasta. Bon Appétit!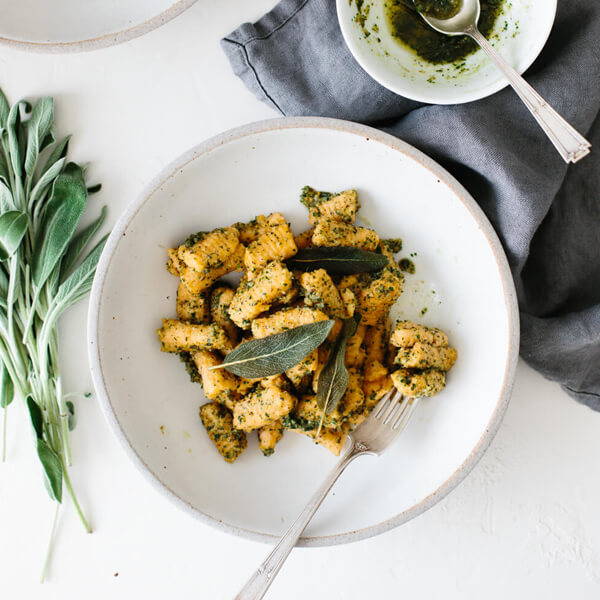 Sweet Potato Gnocchi
2 medium sweet potatoes (approximately 1.5 lbs)
2 cups almond flour, plus more as needed
1 cup arrowroot powder, plus more as needed
1 tsp salt
1 large egg
Sage Walnut Pesto
3/4 cup olive oil, divided
12 whole sage leaves
1/4 cup sage leaves, roughly chopped
1/2 cup fresh parsley, roughly chopped
1/2 cup walnuts
1 garlic clove
1 tsp salt
pinch of pepper
Directions
Pierce the sweet potato with a fork several times. Microwave the sweet potato for 8-10 minutes, or until the inside is soft. Alternatively, you could roast the sweet potato for 50-60 minutes.
While the sweet potato is cooking, heat 1/2 cup of the olive oil in a pan on medium heat. Add the whole sage leaves and cook for 30-40 seconds or until crispy. Use tongs to remove them to a paper towel and set aside. Let the oil cool slightly before using in the pesto.
Add the walnuts to a dry pan and lightly toast for 5 minutes, stirring frequently. Remove to a plate to cool.
Add the chopped sage leaves, parsley, salt, pepper and slightly cooled walnuts and oil to a food processor. Pulse until the ingredients form a thick pesto. Add an additional 1/4 cup or more olive oil until you have a loose pesto.
To make the gnocchi, combine the almond flour, arrowroot flour and salt in a medium bowl and mix together. Remove the flesh of the sweet potato and process through a potato ricer. Alternatively, you could mash the sweet potato, but make sure it's mashed well to prevent lumps. Once riced or mashed, let cool for 10 minutes.
In a large bowl or on a floured work surface, add 3/4 of the flour mixture to the sweet potato and create a well in the middle. Add the egg and lightly beat it, bring in the flour and potato until a thick paste forms. Then, use your hands to continue combining. If the sweet potato is too sticky, add more flour as needed until you can form a log with the dough.
Slice the dough into equal sections. Roll each of those sections into a 1-inch rope. Cut each rope into 1-inch pieces and set aside.
Once all the dough has been cut, use a gnocchi paddle or fork to create indentations in the gnocchi.
Bring a large pot of salted water to a boil. Add the gnocchi in batches to the pot and cook for 2-3 minutes, letting the gnocchi float to the surface. Use a skimmer or slotted spoon to transfer the gnocchi to a large bowl.
Add the basil walnut pesto to the cooked gnocchi and stir gently.
To serve, divide the gnocchi between bowls and add a few crispy sage leaves for garnish.
---